Now, more than ever, people are longing for connection, comfort and a sense of community. At Beth Donovan Hospice we are striving to grow our "Network of Support" by offering a variety of complimentary programs for those seeking community in their grief and bereavement journey. These programs will aim to support this need for connection and will be available for clients, family, caregivers, volunteers, and our greater North Grenville community.
Grief and Caregiver Support
Individual and group therapy is provided by a Certified Counsellor. Those diagnosed with a life-limiting disease, as well as their caregivers, are eligible for service, as is anyone in the community who has been bereaved. An art project has been recently launched to support grieving children and their families.
Spiritual Care
Spiritual care is offered through our Hospice Pastoral Care team.
Reflective Writing Program
Learn to process your thoughts, beliefs and emotions through reflective writing.
The Reflective Writing Program is taught by Amy Tibben, a former English teacher, who believes in the importance of self expression and creative outlets for everyone. There will be no red pens and no grades in this class!
Meditation Series
Breathe, unwind, and enjoy a time of calm and peace.
Beth Donovan Ho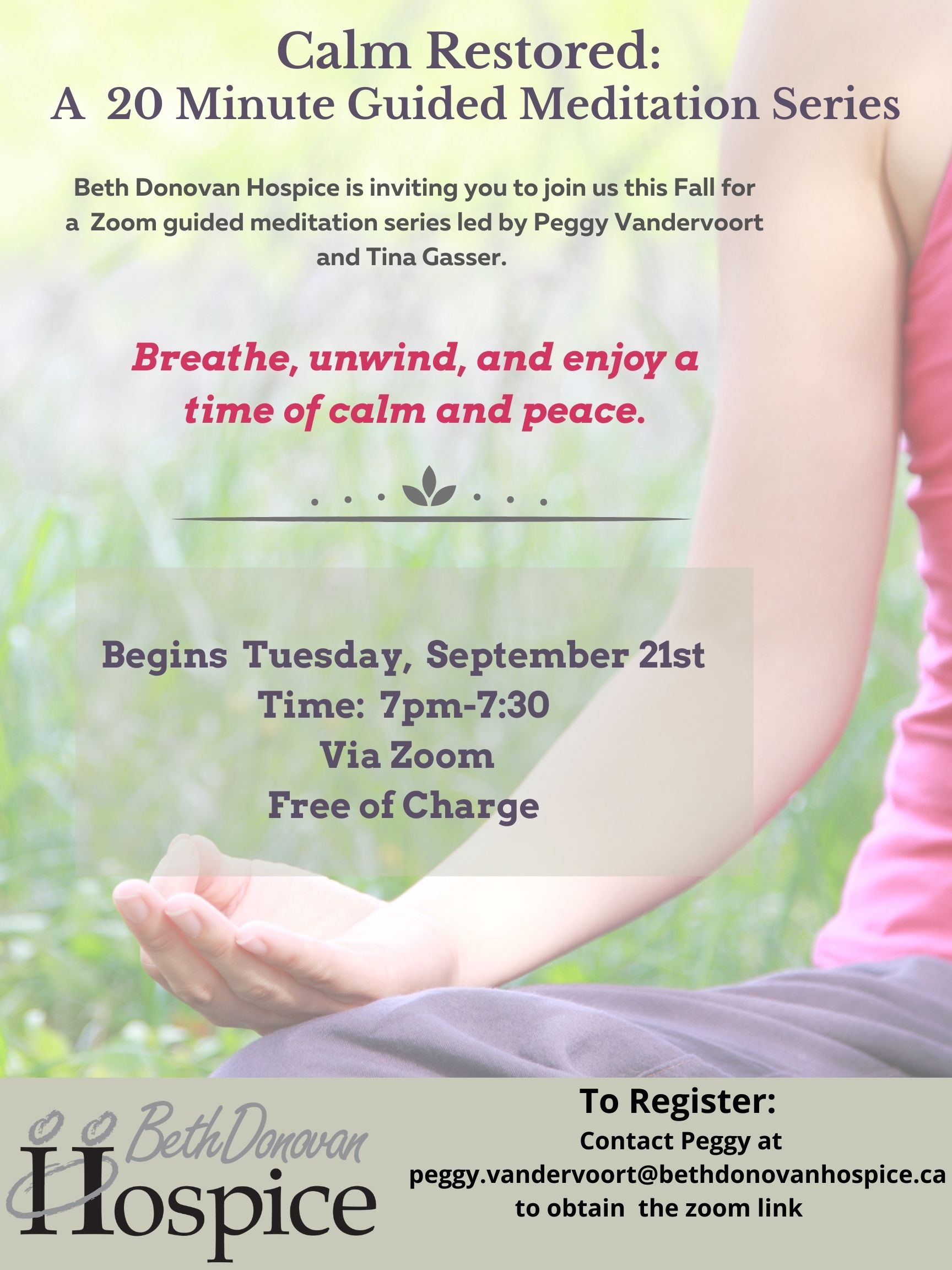 spice is inviting you to join us for a Zoom guided meditation series led by Peggy Vandervoort and Tina Gasser.
The next series begins September 21st.
Grief Support Group

Healing Garden
Surround yourself with the peace and tranquility of nature as you relax and reflect in the Beth Donovan Hospice Healing Garden.
Thanks to a dedicated and imaginative group of volunteers and staff, and Kemptville Fencing and Decks, a circular healing garden with paths leading into a treed labyrinth has been created at the Hospice.
The Healing Garden uses the symbol of a circle. Throughout history, circles have symbolized life, connection, and eternity, as they have no beginning and no end.
Within this circle there are quadrants representing the4 directions- North, East, South, West and the 4 elements- Earth, Air, Fire, Water.
The healing circle can be visited to care for our mental, emotional, spiritual and physical health and can offer peaceful time in nature to help us restore our balance and harmony.
Chair Yoga - COMING SOON
Book Club - COMING SOON
Check our calendar for when the next session is offered.
Download
Our Informed Consent and Agreement
to Counselling Services Form